ADA Bathroom & Kitchen Contractors in Santa Clara
SANTA CLARA'S TRUSTED ADA KITCHEN AND BATH CONTRACTOR
MAKING YOUR HOME ACCESSIBLE, COMFORTABLE AND SAFE
Roll up to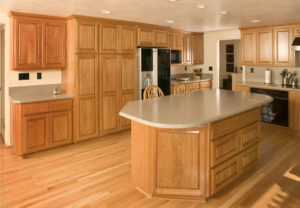 a sink or counter in a wheelchair without obstruction. Walk in to a shower stall or tub easily. Grab the handle bars and sit on a bath bench. While these may sound like luxuries, they are essential conveniences for anyone living with a disability or age-related mobility issues. ADA kitchen and bath contractors have the skills and experience to modify and adapt your home with a full range of solutions that support an independent lifestyle.
Our remodelers are trained to install accessible features and utilize the latest ADA-compliant products to create stylish, barrier-free spaces. Whether it is for you, an aging parent or a child with a disability, we have the knowledge and experience to suitably remodel your home. Families across the Santa Clara Valley hire us as their ADA kitchen and bath contractor to make their homes safe and accessible for their loved ones.
OUR KITCHEN AND BATHROOM CONSTRUCTION SERVICES INCLUDE: 
Creative designs: Using the principles of universal design, our kitchen and bath specialists create attractive, accessible spaces to accommodate everyone in your family. Spacious layouts, convenient access, low maintenance solutions and your unique needs, are the foundation of our design plans. Over the years, we have helped hundreds of seniors and disabled individuals continue living comfortably in their homes.
A full suite of ADA-compliant products for your kitchen and bathroom: We keep abreast of the ADA guidelines to improve safety and functionality in your home. From roll-in showers with seats, to counters and appliances accessible from a seating position, we can install a variety of features that make your home suitable for all, irrespective of age or ability. Touchless faucets, special base moldings, toe kicks and other accessories make living in place simple and comfortable.
Quality craftsmanship: With skilled workmanship and meticulous attention to detail, we will ensure that your kitchen and bathroom are up to code. You can expect personalized service at every stage of your renovation project until you are completely satisfied with the results.
REMODELING TO ADA GUIDELINES AND STANDARDS – HIRE THE SANTA CLARA EXPERTS 
At California Bathroom & Kitchen Remodelers, you can count on our team's skill and craftsmanship to design accessible spaces that are safe and attractive. We will work with you to create ADA-compliant kitchens and bathrooms that are aesthetically pleasing, comfortable and add value to your home.
Since 1994, homeowners across the Santa Clara Valley, including in Willow Glen, San Jose, Almaden, Cambrian, Santa Clara, Los Gatos and Los Altos Hills, CA have trusted us for excellent craftsmanship and quality service. Read these testimonials from some of our happy customers.
Need to make home modifications to improve accessibility? Hire an ADA kitchen and bath contractor. Call us at 408-360-9700  or contact us online to schedule an in-home consultation.