Bathroom Remodeling Contractors in Santa Clara Valley
TOP BATH REMODELING CONTRACTORS IN SANTA CLARA VALLEY
STUNNING DESIGNS, MASTER CRAFTSMANSHIP 
Renovating a tired-looking bath, fixing a major leak, or adding an entirely new bathroom to your home? No matter how small or large your project, the bath remodeling contractors at California Bathroom & Kitchen Remodelers (CBKR) offer creative solutions and professional finishes. Our passionate designers and skilled craftsmen work to your complete satisfaction for creating bath spaces that suit your lifestyle and budget.
CUSTOM BATHROOM REMODELING SERVICES 
At CBKR, we are happy to take on projects of any size and complexity. Whether it is a simple refresh or a complete overhaul, our qualified and experienced team will address your specific requirements. We start each assignment with a careful evaluation and meticulous planning, taking into consideration the time, effort and cost required for:
Space maximization: Proposing suitable layouts that make the best use of the available space, while also catering to your lifestyle needs.
On-trend décor: Helping you select materials and fixtures that are trending but also fit into your style, preferences and budget.
Renovation effort: The extent of electrical work, ducting, venting, and plumbing required, depending on the nature of the project.
Fixing problem areas: Mold remediation or fixing any leaks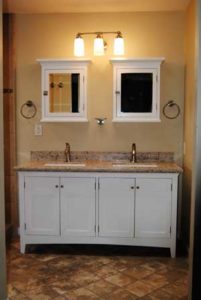 In addition to functional designs, we provide flawless work for:
Upsizing, updating and relocating bathroom fixtures
Modernizing the ventilation system and bringing electrical work up to code
Updating old plumbing and adding hot water lines
Installing custom tubs, vanities, toilets and shower stalls
Upgrading tub enclosures and bath fixtures
Enhancing the lighting and light fixtures
Installing smart features, such as

Water saving, sensor-based faucets
Heated flooring systems
High-tech toilets with seat warmers and self-cleaning facilities
COMPREHENSIVE RENOVATIONS BY TRUSTED BATH REMODELING CONTRACTORS
At California Bathroom & Kitchen Remodelers Inc., we offer a complete range of design and installation services to transform your bathrooms into tranquil oases. Our fully licensed and insured bath remodeling contractors focus on delivering attractive and functional spaces with quality craftsmanship and unparalleled customer service.
Since 1994, we have served happy homeowners across the Santa Clara Valley, including in San Jose, Willow Glen, Los Gatos, Monte Sereno, Almaden, Santa Clara, and Los Altos Hills, CA.
Discuss your bathroom makeover requirements with the trusted bath remodeling contractors at CBKR. Call us at 408-360-9700 or contact us online to schedule a free, no-obligation, in-home consultation.