Update Your Dated Kitchen with a Smarter Layout and a Brighter Look
Ideas to Update Your Dark, Dated Kitchen
Remodel for a Smarter Layout and a Brighter Look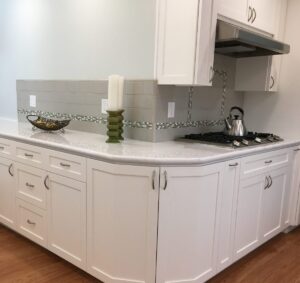 Experienced designers and craftsmen can help you make the most of the space you have. From repurposing your mudroom for more kitchen space to adding a skylight to bring in natural light, we can help you update your dark, dated kitchen. Remember, it's important to prepare for your kitchen renovation to help things go smoothly!
Strategic Kitchen Layouts and Design Elements that Capture Light
Here are a few ideas to brighten your outdated kitchen with trendy materials and a more functional layout:
Do you have a mudroom or laundry room entrance? Consider re-purposing this space into a kitchen expansion. If required, you can take down non-load-bearing walls to bring more direct sunlight in your kitchen. With the additional space, you can expand countertop working areas, design an in-kitchen eating space, or add an island.
Not sure which layout will work best for you? California Bathroom and Kitchen Remodelers has designed many kitchens in both new and older homes. We can design your new kitchen layout to ensure you have a more spacious and brighter room that considers your functional and aesthetic preferences.
Customized light fixtures: From overhead lighting to under-cabinet LED lighting, we can add layers of illumination to make your kitchen appear airy and bright. Our team can help you choose faucets, cabinetry, hardware, and paint colors that reflect light and fit your style. For inspiration, take a look at the eclectic elements our team achieved with this kitchen makeover.
Glass or metallic backsplash: Glass reflects light, creating a cool, modern tone. Burnished metal also reflects light but creates rich, warm tones. Consider copper, stainless steel, or brass in brushed or hammered textures for a unique look.
Add cabinets and pantries for extra storage and paint them in lighter hues. Whites, yellows, and pastel shades will brighten your kitchen and give it a modern feel. Work with our designers to personalize your custom cabinetry and brighten up any dark nooks in your kitchen.
Expert Kitchen Remodelers in the San Jose Area
Thorough planning and painstaking design coupled with high quality craftmanship define every project we touch. Ask for a no-obligation consultation to discuss your kitchen renovation goals. For a brighter, updated, and more welcoming kitchen, trust the professionals at California Bathroom and Kitchen Remodelers.
Please browse our gallery of kitchen remodels for ideas and layouts that could work in your home.
Contact us today to update your dark, dated kitchen with a smarter layout and brighter look. We serve clients in San Jose, Willow Glen, Almaden, Los Gatos, and Cambrian. Call 408-360-9700 to set up a complimentary consultation today.