Bathroom Remodeling Contractors in Monte Sereno
Add Luxury and Innovation to Your Bathroom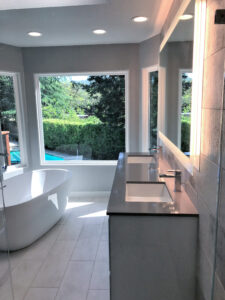 California Bathroom & Kitchen Remodelers, Inc. delivers personalized bathroom refinishing and remodeling services throughout the Monte Sereno area. Whether you're looking for design inspiration or expert installers, we'll see you through the completion of your traditional, contemporary or resort-inspired bathroom renovation. Partner with the best bathroom remodeling contractors in Monte Sereno to build your dream bathroom.
Replace outdated fixtures, showers, and tubs without changing the layout of your existing bathroom with masterful refinishing. For complete bathroom remodel services, hire our innovative designers to layout a modern master bath with a standalone soak tub, walk-in shower with multiple shower heads, heated porcelain tiles, and a massage table. We are also trained to install accessible features and the latest ADA-compliant products, so your remodeled bathroom can be a stylish, safe, and barrier-free space.
If you're working on a smaller budget, you can still achieve affordable upgrades that add unmatched form and function to your bathroom.
Comprehensive Bathroom Remodeling Services in Monte Sereno
California Bathroom & Kitchen Remodelers, Inc. has a skilled and experienced team equipped to deliver a stunning bathroom makeover. Our bathroom remodeling contractors in Monte Sereno work hard to create a space where you can unwind and soak in the tub or start the day with invigorating shower jets blasting away the cobwebs of sleep.
We manage every stage of your bathroom renovation from design to demo to delivery. You won't have to find a plumber, electrician, or other trade professional. Our team takes care of everything to ensure the project goes smoothly.
Here's an overview of what to expect:
Free in-home consultation: Let's talk about the features that will delight you and evaluate your bathroom space for a suitable makeover.
Initial bathroom design: After taking note of your wish list, our designer lays out your new bathroom concept.
Material selection: From granite countertops to mahogany vanities, we bring in rich materials that transform your bathroom. Browse through our bathroom remodel examples for inspiration as you choose hardwood, tile, and other flooring and wall materials.
Project timeline: We provide a detailed timeline to help you understand the scope of work. Your project manager will give you regular updates on project progress from start to finish. We understand the importance of having a predictable work schedule so that your family can maintain their daily routine.
Permits and logistics: As experienced bathroom remodeling contractors and local experts, we know how to navigate regulation and city bylaws to obtain the necessary permits and approvals.
Getting down to work: The build team does everything in their power to expedite the remodeling process. By coordinating demolition, plumbing, electrical, and installation work, we maintain a steady schedule and deliver your bathroom to you on time.
Final inspection and unveiling: Our skilled crew will make sure that your finished bathroom stays true to the look and functionality laid out in the approved design. We will do a full walkthrough after cleaning up the job site to check that it meets your expectations.
Contact us to hire a trusted team of bathroom remodeling contractors in Monte Sereno or call 408-360-9700 to set up a free consultation. We also serve customers in Los Gatos, Cambrian, Almaden and across the Santa Clara Valley. 
Bathrooms Remodelers in Monte Sereno Follow City Guidelines
Monte Sereno sits in southwest Santa Clara Valley. The city aims to preserve the rural character of existing neighborhoods and consists exclusively of single‐family residences with some community services. Interior and exterior designs of buildings focus on a harmonious blend of natural elements and modern conveniences.
As long-serving bathroom remodeling contractors in Monte Sereno, we recognize and value the city's design guidelines. We often recommend an understated elegance rather than over-the-top features that may clash with the rest of your home. Choose California Bathroom & Kitchen Remodelers, Inc. to partner with a team of local professionals intimately familiar with local regulations and design trends.