CABR's Ideas for Designing an Island in a Small Kitchen
Ideas for Designing an Island in a Small Kitchen
Add Beauty, Functionality, and Additional Seating to Your Kitchen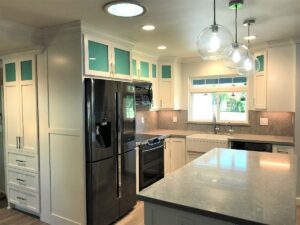 Make the best use of available space and improve your small kitchen's functionality with a custom island designed, built, and installed by California Bathroom & Kitchen Remodelers. Freestanding or built-in islands enhance your kitchen's appearance, and you can add amenities such as storage, electrical outlets, appliances, and seating.
Need fresh ideas to update your entire kitchen? See our photo gallery for inspiration. If you are keen on incorporating an island with your existing layout, we can get it done with great results.
Think about Why You May Want an Island in Your Small Kitchen
Before you start the process of designing an island in a small kitchen, there are a few important things to consider. You can scale the island's size to your kitchen, making it bigger or smaller depending on the available space. Keep the following benefits in mind to make your final decision on whether to install a custom kitchen island:
Access on all four sides maximizes counter space
Complement your open-plan design with a beautiful island
Expand your seating capacity with a few barstools
Increase food preparation space
Facilitate work or study activities while you multitask in the kitchen
California Bathroom & Kitchen Remodelers can help you design every element of your small kitchen, including an island. Find out what customers are saying about our kitchen remodeling prowess.
Design Tips for Your Small Kitchen's Custom Island
Consider the following tips when you meet with our team and discuss designing an island for your small kitchen:
Mix or match. You can build the sides of the island to contrast with or match your existing cabinetry. Our remodelers will work with your vision and lifestyle needs in mind.
Choose a fabulous countertop material. Select a countertop material that makes sense for how you plan to use the island. Choose from natural stone, wood, concrete, granite, marble, quartz, or Corian. Our experienced installers can make the base of the island flush with the counter or leave an overhang to accommodate barstools and legroom.
Add a range, grill, or other appliances. Determine the most important features to include in your island. Our designers can create a layout that increases your food prep area, includes a grill or range, creates a convenient spot for a microwave and warming drawers, and multiplies the storage space for cookware and other items. We can also provide safe electrical outlets to power small appliances and serve as charging ports for mobile devices and laptops.
Create an entertainment space. Islands can expand your seating and create an intimate space for guests and family to gather as you cook or attend to hosting duties. Invest in a durable countertop with an eye-catching pattern or color combination for an inviting dining space.
Light it up! Recessed lighting, natural light, and ceiling-mount chandeliers and fixtures can add ambience, drama, and tons of light over your new kitchen island. Our lighting technicians follow local and national electrical codes and work with you to achieve the desired ambiance.
Leave enough clearance. Ideally, two people must be able to pass each other while another is standing at the island. Allow for clearances of about 40 inches on all sides of the island.
California Bathroom & Kitchen Remodelers has designers and skilled craftsmen that can help you renovate your small kitchen for maximum efficiency.
Contact us online about designing an island in a small kitchen in the Santa Clara Valley. Call us at 408-360-9700 to schedule a free consultation.