High Tech Bathroom Renovation Ideas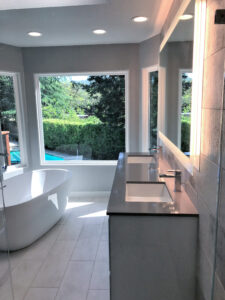 Upgrade Your Bathroom with the Latest Gadgets
With today's tech gadgets, all facets of life have moved toward the futuristic picture that was once seen only in sci-fi movies. Your bathroom is no exception. Bathtubs that fill on your voice command, water pebbles that train you to use less water, warming drawers for your towels, air purifiers, temperature sensing LED faucet lights, and other innovations continue to push the envelope and revolutionize bathroom renovations.
What are the key advantages of incorporating these smart technologies when you upgrade your bathroom?
Improved health and hygiene
Environmentally friendly design
Safer bathroom environments
Find out more about the latest gadgets and tech innovations to make your bathroom renovations more than just a style makeover.
Must-Have Tech for Your Bathroom Upgrade
The days of settling for shower heads with one speed and pressure are in the past. High-tech toilets, digital faucets, towel warmers, and other products make your time in the bathroom comfortable and luxurious.
Here are some of the items to consider for your bathroom renovation:
LCD shower panels. Do you spend a lot of time adjusting water to the right temperature? LCD panels allow you to control water flow, temperature, and steam. You can even listen to music while you take your shower. Ask our knowledgeable team how you can combine this with your other smart home devices as you plan your bathroom redesign.
Digital faucets. Save water with an efficient digital faucet. You can reduce tap flow and gain more control with touchless settings. Some models have infrared technology to detect hand motion for maximum water conservation. If you have kids, digital faucets make brushing teeth and hand washing, simple and fun.
High tech toilets. Low-flow toilets have been on the market for decades. However, new models take convenience and water conservation to new heights. For example, Japanese-style toilets include personalization, voice control, and tons of bells and whistles. From bidets to nightlights, high tech toilets are must-have items for your reimagined bathroom.
Waterproof TVs. Incorporating Alexa or Siri into your smart phone devices is just the beginning. Now, you can stream television shows or videos into the bathroom with voice commands. Moisture resistant TVs make it easy to watch your favorite shows while you get ready for the day or relax in a bubble bath before bedtime. In fact, some TVs double as mirrors to help you achieve multifunctional nirvana!
Our customer-focused team will make the bathroom remodeling process as easy as possible. Let us know your wish list items and we'll do our best to incorporate them seamlessly into your bathroom renovation.
Contact us today for high tech remodeling ideas to upgrade your bathroom. We serve customers in San Jose, Willow Glen, Almaden, Los Gatos, and Cambrian. Call 408-360-9700 for a free quote.