Relaxing Paint Colors for Your Home
Relaxing Paint Colors for Your Kitchen and Bath Remodel
Choose Soothing Hues for Your Busy Home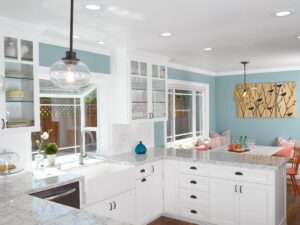 While sunshine, blue skies, greenery, ocean views and scenic landscapes are proven ways to find relaxation in the outdoors, simply choosing relaxing paint colors can offer a similar feeling inside your home. At California Bathroom & Kitchen Remodelers, we do everything we can to make your remodel as stress-free as possible. Our goal is to leave you with warm, inviting spaces where your family can unwind and relax.
The Wall Street Journal recently published an article summarizing the expert advice of hundreds of interior design professionals. Here, we evaluate the top four hues recommended to bring your home up to date with the most beautiful and restful tones of 2021.
Premium Paint Shades Recommended by Top Designers
Try these colors to update your décor and create a chill ambiance:
Borrowed Light No. 235: Cool blues and mints were well-represented on the favorite colors recommended by today's best interior decorators. The top pick from Farrow & Ball is part of the company's Borrowed Light collection. It evokes the cool blue light that streams in through your windows and has a soothing tone that can brighten your kitchen or bathroom while changing slightly in different lighting throughout the day.
Alabaster OC-129: Benjamin Moore's Off-White collection includes this bold shade that designers felt would pair well with jute, rattan, and other naturally inspired tones. The chalky white doesn't tend toward other hues but maintains a beautifully neutral shade throughout the day. This sophisticated color exudes tranquility and helps you create a serene space for your bathroom spa. It also works well as an accent for your kitchen walls.
Portola's Graceland: This shade wins for the most fun name! Portola's Graceland is a muted green hue with natural appeal and earthy undertones. Overall, it creates an optimistic backdrop for your remodeled bath or kitchen. This sage-inspired color adds personality without any disorienting intensity.
Shark PPG1006-2: This light gray calls to your senses without overwhelming them. Since it contains both cool and warm undertones, you can match this relaxing paint color with an eclectic color palette. Pairing Shark with white trim creates an elegant look. You can find it at PPG Paints.
Do you need more ideas for your kitchen color palette? Browse our online kitchen gallery for examples of our completed projects. We use top brand finishes and fixtures. Our online bathroom gallery can give you great ideas for fixtures, finishes, cabinetry, and flooring for your bathroom renovation.
Relaxing Paint Colors, Kitchen and Bath Designs, and More
For help planning and designing your kitchen and bath, contact California Bathroom & Kitchen Remodelers, Inc. We serve homeowners in the Santa Clara Valley and are happy to consult with you on everything from relaxing paint colors to fixtures and flooring decisions.  
Turn your outdated kitchen or bathroom into a serene and highly functional space with relaxing paint colors and a tasteful remodel. Call us at 408-360-9700 or contact us online for a no-obligation consultation.