Top 5 Kitchen Design Trends from CABR
Renovate the Heart of Your Home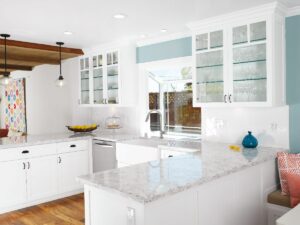 An efficient and attractive cook space requires careful planning, creative design, and a quality finish. At California Bathroom and Kitchen Remodelers, we believe that achieving the right balance between form and function is the most critical aspect of a fabulous kitchen makeover. Our experts share the top 5 kitchen design trends you should consider while renovating the heart of your home.
Innovative Looks to Elevate Your Cook Space
During kitchen renovations, many homeowners consider knocking down walls for a more open layout. This means improved sight lines to oversee young children and enlarged spaces for cooking and entertaining. While open-concept kitchens offer enhanced functionality, they also need thoughtful design and material choices for seamless integration with the style and décor of the rest of your home.
Whether you prefer an open-concept kitchen or not, here are the top 5 kitchen design trends to achieve a stunning makeover.
Metallic accents: Metallic features in the kitchen are in. You can choose how or where to incorporate them to accentuate a specific area. For example, bronze hardware for drawers and cabinets, or a matte gold finish for the sink faucet, brass or copper sheets applied to the countertop or backsplash, or a metallic finish for your bar stools. Other options could be a striking metallic light fixture, a copper sink, a custom range hood, or a stainless steel backsplash. There are innumerable possibilities for adding metallic accents to your kitchen.
Designer sinks and large islands: Although not an option for compact kitchens, dual islands are in, if space permits. Segregated spaces are ideal for prepping, cooking, dining, entertaining, or other purposes, such as a breakfast bar or a spot for the kids to complete their homework. Another such trend for maximizing the work area is to install designer sinks. Modern sinks come with strainers, cutting boards and drying racks, and serve as multipurpose stations in your cook space.
Bold backsplashes: Add drama while achieving a clean, minimalist modern look by extending the countertop slab to your backsplash. If you are seeking a fun and playful look, add the perfect pop of color by choosing vibrant tiles for the backsplash. A carefully chosen, statement backsplash could even serve as a piece of art in the heart of your home.
Multi-tone kitchens: White or monotone kitchens are out. The current trends are more about two-tone or three-tone kitchens. Incorporate complementary tones in all aspects of the kitchen, including cabinetry, countertops, backsplash, appliances, light fixtures, and wall colors.
Smart kitchens: There are several options for integrating smart technology in your kitchen. Here are some examples of technology for making your cooking habits and lifestyle efficient and convenient.
Sensor based faucets
Lighting systems or appliances that you can control from your smartphone
Touchscreen countertops to read recipes or watch shows while cooking
Smart refrigerators that offer alerts for groceries or supplies running low
Programmable gadgets, such as coffee makers that have your coffee ready when you wake up
Trendy Kitchen Makeovers by Santa Clara Valley's Remodeling Specialists
At California Bathroom & Kitchen Remodelers Inc., we specialize in custom kitchen renovations that help you achieve enhanced function, appeal, and value for money. Our talented designers take the time to understand your cooking habits, lifestyle and preferences, and offer creative, space-maximizing solutions for an efficient kitchen makeover. Our qualified and experienced crew delivers these designs to perfection within the agreed timelines and budget.
Since 1994, we have successfully renovated kitchens across the Santa Clara Valley, including homes in Santa Clara, San Jose, Willow Glen, Almaden, Monte Sereno, Los Gatos, and Los Altos Hills, CA. Our clients vouch for our innovative designs, customer-focused approach, and quality workmanship.
Call CBKR, your expert kitchen remodeling contractors at 408-360-9700 or contact us online to book an in-home consultation. We can discuss several other ideas and top kitchen design trends that will help you achieve your dream cook space.