WHAT TO EXPECT FROM US
Imagine relaxing and remodeling with pleasure… at California Bathroom and Kitchen Remodelers we pride ourselves in offering the finest craftsmanship combined with knowledgeable and personalized service in all phases of your remodel.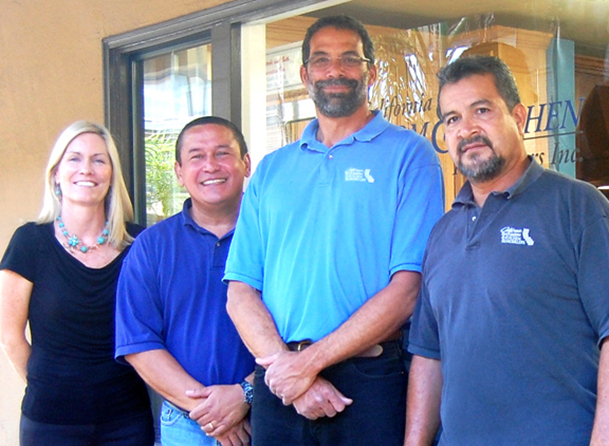 CALIFORNIA BATHROOM & KITCHEN REMODELERS, INC.
has specialized in remodeling bathrooms and kitchens in the finest neighborhoods of Santa Clara Valley since 1994. Our craftsmen are highly skilled in all aspects of remodeling. We are passionate about one thing – getting the work done efficiently, on time and on budget.
From the simple renovation to the sophisticated remodel, our commitment is to making the investment in your home one you'll be proud of for years to come. We enjoy our work and the partnerships we share with our customers in creating the bathrooms and kitchens they have always dreamed of.
By overseeing every detail and providing solutions, we ensure that remodeling is a fun and satisfying experience for everyone.
WHAT TO EXPECT
We have an initial conversation with you, usually by phone, to see if our services and your project are a good match.
The President of California Bathroom & Kitchen Remodelers Inc., Allyn Johnson, will come out to your home to view the rooms, take measurements and pictures, and discuss the project further.
An appointment is made for a showroom meeting. At this meeting you can view displays of tile, cabinetry, countertops, plumbing fixtures and more, and make some initial selections. We have extensive pictures of previous projects which provide many ideas which can be applied to your project.
This will be used along with the information from the in home visit to prepare a proposal for your remodeling project. We also discuss and provide all the information on the planned workflow, and discuss all the logistics of the remodel. The next steps to get started are another design meeting to make final selections and adjustments if necessary, and approval of a detailed Remodeling Agreement. Once that is approved, we will put you on our schedule, start ordering materials and preparing to start your project.
---
WSI Genesis
Action Hosting - WSI Genesis Google Cloud hosting solutions are designed to meet your growing business needs. Providing the most advance Wordpress development and hosting on the Google cloud.
---