7 Things to Look for in a Bathroom Remodeling Contractor
Choose Wisely to Ensure a Successful Bathroom Makeover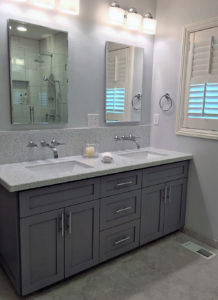 A cleverly planned and well executed makeover with modern comforts and conveniences can transform your bathroom into a luxurious, spa-like personal haven. However, when there are thousands of contractors to choose from in the Santa Clara Valley area, how will you separate the best from the rest? The experts at California Bathroom and Kitchen Remodelers list 7 things to look for in a bathroom remodeling contractor.
Aspects to Consider When Hiring a Bathroom Renovation Specialist 
It is natural to feel anxious about any home renovation project. Will the contractor understand your vision? Will they execute the design to perfection, without damaging other areas of your home? Will your choice of materials complement each other?
In order to minimize your stress, here are 7 things to look for in a bathroom remodeling contractor:
Experience and credibility: An experienced contractor with proven results in their field can truly transform your vision into reality. Whether they come highly recommended through friends or family, or you check their customer reviews and do a few site walkthroughs, it's important to ensure you hire someone who has a track record for:
Timely and on-budget project completion
Excellent customer service (provides prompt and regular updates, offers thorough post-job cleanups)
Professional conduct (has the experience and etiquette to work efficiently without constant supervision)
Resourcefulness: A competent contractor can set up a schedule, monitor expenses, and move things around to stay within the agreed budget and timelines. For example, selecting the right people for the job, scheduling an appropriate number of shifts, reorganizing schedules, and other such adjustments.
Client focus: One of the most important traits in a home improvement specialist is the ability to hear you out carefully, understand your lifestyle and requirements, and grasp your vision of a dream bathroom. A good contractor:
Breaks down the project and includes you in the design process
Minimizes the disruption to your routine when work begins
Helps you deal with the anxieties or frustrations typically associated with remodeling projects
Communication: From presenting a detailed quote and proposal, to providing regular project updates, the contractor should always be able to communicate effectively . They should also be proficient in delegating tasks and instructions to their own crew to ensure that the construction and delivery is in line with the agreed upon design and schedule.
Problem solving: Every renovation project has its own challenges, such as design feasibility, space availability, budget, scheduling constraints, and more. There may also be unpredictable events, such as delays in material supply, inclement weather, or team member conflicts. A capable contractor:
Predicts and provisions for potential issues based on the initial assessment and project scoping.
Smoothly resolves any unexpected issues and offers practical and agreeable alternatives, instead of burdening you with additional problems.
Crew management: While some remodeling companies hire third-party contractors and crews, others employ them in-house and work as a close-knit team. No matter what the arrangement, a capable contractor leads the crew through:
Proper delegation and target setting
Clear communication and precise directions
Productive on-site work environment
Careful balancing of shifts and workloads to prevent excessive fatigue, which could result in mishaps or mistakes.
Design-build capabilities: Minimize your stress by hiring a remodeling company that offers a comprehensive range of services. By choosing someone with combined design-build capabilities, you can avoid the hassle of dealing with multiple contractors. From design and demolition, to plumbing, electrical and fixtures, you will get all the bathroom makeover related services you need under one roof. Typically, such companies assign a site supervisor who becomes your single-point contact for all queries, concerns and updates.
Hire Santa Clara Valley's Leading Bathroom Remodeling Contractors 
Renovating a bathroom is a great way to enhance your lifestyle, while increasing the value and appeal of your home. Whether your bath space needs a minor refresh or a complete overhaul, partner with the bathroom remodeling specialists at California Bathroom & Kitchen Remodelers. We promise creative designs, quality craftsmanship and professional finishes, and work hard to complete your project on-time and on-budget.
Since 1994, happy customers across the Santa Clara Valley count on us for attractive and functional bathroom makeovers. We serve homeowners in San Jose, Santa Clara, Willow Glen, Los Gatos, Almaden, Monte Sereno, and Los Altos Hills, CA.                                                                                 
For seamless and stress-free renovations, hire the experienced bathroom remodelers at CBKR. Call 408-360-9700 or contact us online to schedule an in-home consultation.
CALIFORNIA BATHROOM & KITCHEN REMODELERS
1261 Lincoln Avenue
Suite 112
San Jose, CA 95125