TOP BATHROOM REMODELING CONTRACTORS IN LOS ALTOS
Have a Bathroom Designed in the 60s or 70s? Time for an Upgrade!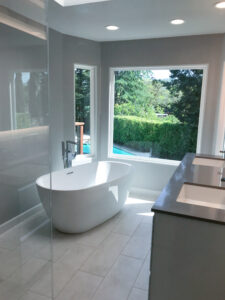 Discerning homeowners in Los Altos and Los Altos Hills hire only experienced bathroom remodeling contractors. With California Bathroom & Kitchen Remodelers, Inc., you can trust that we will see the project through from the first consultation to the placement of the last tile or the final coat of paint. If your home has original elements from the 60s or 70s, you may wonder if it's possible to integrate colorful tiles or graphic wallpaper into a toned-down contemporary bathroom oasis. With assistance from our seasoned remodeling experts, it's absolutely doable.
On the other hand, if you want to bid the avocado paint and bright orange or blue tiles goodbye, we can refurbish the space entirely with luxury amenities, such as:
Steam shower or sauna for complete relaxation
His and her vanities to make getting ready for work or bed efficient and stress-free
Built-in granite shower seat for accessibility, comfort, and easy cleaning
Upscale fixtures and more neutral color combinations than the energetic colors popular five or more decades ago
Eliminate these Features from Your 60s or 70s-Inspired Bathrooms
Do any of these elements of the age of disco and flower power still pervade your Los Altos or Los Altos Hills bathroom?
Vibrant, sometimes shocking color combinations
Splashes of mint or hot pink with contrasting borders
Hand-painted accents
Tiles from floor to ceiling
Gold soap dishes and towel racks
Tile-glazed toilet paper dispensers
First decide which, if any, of these elements you'd like to keep. Maybe you really like the hand-painted accents! Next, contact California Bathroom & Kitchen Remodelers to create a bespoke design that brings this important room into the 21st century.
Make Your New Bathroom Functional and Stylish
From built-in cabinets and shelves to towel racks installed above the tile, your bathroom remodeling contractors in Los Altos can help you improve the functionality of your legacy bathroom. You can safeguard your family's health and comfort by replacing outdated toilets with energy-saving, ergonomic, modern ones. Or replace your combo bath and shower with a luxury soak tub and walk-in shower, if there's space to do so.
Our projects across Los Altos and Los Altos Hills include:
Bathroom refinishing: If you want to keep some of the major elements for a retro look, we can refinish the space with new appliances and fixtures but retain colorful tiles and other elements that harken back to the original build date. If you love the retro look of the shower, tub, or sink, we can reglaze them or re-stain cabinets to match the original colors and style. Replacing light fixtures and removing some of the omnipresent tiles are other ideas that maintain the look while sprucing up the space and adding value to your home.
Bathroom remodeling: We can also rip the entire room down to the studs, installing new flooring, a modern shower, toilet, vanity, and updated light fixtures that create an entirely new look. From electrical upgrades to new plumbing and high-tech renovation ideas, our pros can handle your bathroom remodel from A to Z.
For budget-friendly bathroom upgrades you can count on California Bathroom & Kitchen Remodelers.
Contact us today to schedule a consultation with our team of bathroom remodeling contractors in Los Altos or Los Altos Hills. Whether you're looking to update or replace your 60s or 70s bathroom or just add your own flair, call 408-360-9700 for a quote.
Los Altos and Los Altos Hills
Los Altos Hills first incorporated in 1956 and the 60s and 70s saw an influx of residential growth. Homes of the time reflected vivid colors and textures and unique building materials, such as stained glass and much loved tile. Today, Los Altos Hills boasts elite tech moguls and venture capitalists who cherish their exclusive community. Expansive views of the San Francisco Bay and intentional preservation of the area's rural beginnings make this a great choice for homeowners who value history, serenity, and seclusion.
Los Altos homes sell for over $4 million on average and sell quickly. So, any upgrades you make are bound to come back to you as higher offers. If you love the original styling but also need a modern bathroom with updated amenities and functionality, partner with our local bathroom remodeling contractors in Los Altos to create the right aesthetic for you.
CALIFORNIA BATHROOM & KITCHEN REMODELERS
1261 Lincoln Avenue
Suite 112
San Jose, CA 95125