Bathroom Remodeling Contractors in Los Gatos
Versatile Design Choices and Exemplary Execution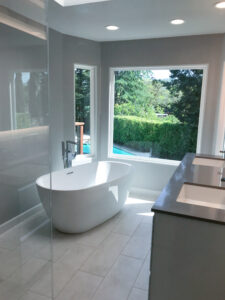 California Bathroom & Kitchen Remodelers, Inc. is dedicated to delivering custom bathroom remodels to clients in the Santa Clara Valley, including homeowners in Los Gatos. You can count on us from concept through completion. As experienced bathroom remodeling contractors, we can transform your outdated bathroom into a modern spa with high-end fixtures, beautiful tiles, and flawless finishes.
Our projects across San Jose and Los Gatos include:
Bathroom refinishing: If you don't require major changes to the layout, you can save a ton of money by refinishing your existing bathroom fixtures and appliances. Consult with one of our customer specialists regarding options such as re-glazing the shower or tub, re-staining cabinets, or replacing the faucets and other hardware. Once we see the space, we can make additional suggestions, such as replacing light fixtures and sprucing up the walls.
Bathroom remodeling: You may opt for a complete remodel if the existing layout doesn't work for your family. If you want to replace the fixtures to match your preference or need new plumbing and electrical systems installed to bring your home up to local codes, a remodel gives you the most room for transforming your bathroom into a reimagined space that you can truly enjoy.
Let us help you with budget-friendly bathroom upgrades that help you save money on your remodel. Hire the leading bathroom remodeling contractors in Los Gatos and take the appropriate steps to prepare for your new bathroom. We can get the ball rolling.
Comprehensive Bathroom Remodeling Services
We work to create an oasis where you can relax and get ready for the day or wind down at the end of your day. Our comprehensive list of bathroom remodeling services includes the following:
Demolition and removal of sinks, tubs, fixtures, and flooring
Installation of a new tub and shower with all the features you crave
Flawless execution of tiling and fixture installations
Plumbing, electrical, and ventilation upgrades
We have assembled a diverse group of tradespeople so that we can provide one stop shopping for all your renovation needs.
What a High-Quality Contractor Brings to the Build
You can reduce the stress of your bathroom remodel by choosing a contractor with the right skills and resources. California Bathroom & Kitchen Remodelers, Inc. has the experience and credibility to put your mind at ease. When you work with our seasoned designers and installers, you get a stylish, functional, dream bathroom on time and within your budget.
We use finishes and fixtures from top brands so we can deliver a finished product that meets or exceeds your original vision. By partnering with us, you gain access to a team of specialists who will keep you updated on project progress and always conduct themselves professionally.
Get in Touch with Reputable Bathroom Remodeling Contractors in Los Gatos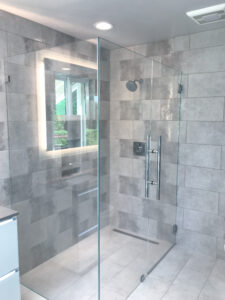 Are you looking for great ideas to improve your bathroom? Consider installing a double sink to prevent delays when everyone's rushing to get ready in the morning. We can also customize your new bathroom for seniors. Tell us your needs and we can help you plan the perfect bathroom for your family.
For help planning, designing, and installing bathroom remodels, contact California Bathroom & Kitchen Remodelers, Inc. We serve residents across the Santa Clara Valley including in Los Gatos.
Turn your damaged, worn, and dull bathroom into a tranquil space with help from our well-rounded team of plumbers, electricians, and contractors. Call us at 408-360-9700 or contact us online to set up a consultation in your home.
Los Gatos Homes Feature Stunning Bathrooms
The visual appeal of Los Gatos lies in its varied terrain. One can see flat topography at the edge of the valley floor and dense woods on the hillsides. There are charming creeks, streams and riparian habitat to enjoy across the region. The contrast of flat land and hillsides makes for a scenic landscape.
As one of the oldest communities in Santa Clara County, Los Gatos is a town rich in attractive, architectural masterpieces. Homeowners take pride in maintaining well-kept homes and properties, not just on the outside and from a curb appeal perspective, but also on the inside. Many homes in the area are updated and skillfully renovated to become welcoming, stylish spaces with modern, trendy kitchens, luxurious bathrooms and convenient room layouts.  
CALIFORNIA BATHROOM & KITCHEN REMODELERS
1261 Lincoln Avenue
Suite 112
San Jose, CA 95125