Home & Bathroom Renovation Ideas for Seniors
Building Accessible Spaces to Facilitate Aging in Place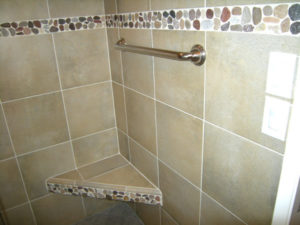 While enhanced lifestyle choices may drive a majority of remodeling projects, creating accessible spaces is a greater priority for homes where seniors live; often alone. Practical home and bathroom renovation ideas for seniors can transform the scope of your renovations and enable aging in place for yourself or your loved ones. The experts at California Bathroom and Kitchen Remodelers have years of experience helping to redesign homes and make them safe and accessible, following ADA compliance guidelines.
Top 5 Home Improvement Suggestions for Older Adults 
In a study by the AARP Public Policy Institute, 87% of people aged 65 and above prefer to age in place, continuing to stay in their current homes and communities. Remodeling experts are continuously innovating ways to improve the functionality and accessibility of homes. Many of these ideas find wide appreciation and utility not just among seniors, but also homeowners planning for retirement. Some may be raising young families and want their homes to be safe for kids but also for grandparents to visit and stay in comfort.
Here are some useful ideas to renovate your bathrooms and the rest of your home for better accessibility and safety.
Create an open floor plan: Knocking down a few walls to create a spacious layout and easy flow between rooms is a popular renovation choice. Creating an open floor plan can potentially boost the value of your home as homebuyers increasingly look for that feeling of openness. Seniors can move freely and safely in the home. The additional square footage is welcome!
Minimize the hurdles:

Consider doing away with interior doors wherever possible or install sliding or pocket doors to improve movement within the home.
Promote smooth transition in and out of your home or garage by widening the entrance to 42 inches and internal doors to 36 inches. This will easily accommodate wheelchairs (if you need one now or in the future) or kids' strollers (when your kids and grandkids visit).
Remove thresholds between rooms and at the entrance to your home. Replace carpets with smooth, hard flooring. This will not only make the movement of wheels simple and hazard-free, but also be easier to clean and maintain.
Accessorize wisely: Choose your hardware carefully. Look for easy-to-use door levers, good-grip drawer pulls and quick-turning faucets. Grabbing or twisting a doorknob may become difficult in later years, especially when the joints become weaker, or due to chronic conditions such as arthritis.
Improve convenience: Enhancing convenience is all about minimizing the time, effort, and risk involved with completing ordinary tasks. For example, bending down to access electrical outlets that are usually 12 inches off the floor is tedious. It could also put a strain on the back for older adults. Raising the outlets by 6 inches would make them more accessible and contribute to added functionality. Similarly, choosing pullout under-counter drawers in place of cabinets with swinging doors can help in better organization and movement during cooking, especially for someone in a wheelchair.
Fortify your bathroom: According to the CDC, bathroom slip and fall incidents make up 81% of all injuries among seniors, resulting in fractures, head trauma, hospitalization and potential loss of independence. A few simple changes will enhance the safety, ease of cleaning, and movement within your bathrooms. Consider ideas such as:

Installing a wide entrance, curb-less, walk-in shower stall
Adding safety grab bars in the tub, shower stall, and near the toilet
Lowering the sink counters to make them accessible at seated height
Upgrading the vanity to add convenient storage
Creating a built-in bench in the shower stall to serve as a temporary resting spot 
Stylish Makeovers by Santa Clara Valley's Renovation Experts 
Aging in place modifications do not have to be dull and boring. At California Bathroom & Kitchen Remodelers, we are passionate about delivering makeovers that enhance the look, functionality and accessibility of your home. Our Certified Aging in Place Specialists (CAPS) understand the unique requirements of aging adults and offer practical, creative and trendy home and bathroom renovation ideas for seniors.
Since 1994, we have served customers in San Jose, Santa Clara, Willow Glen, Almaden, Monte Sereno, Los Gatos Hills, and Los Altos Hills, CA. 
Call CBKR at 408-360-9700 or contact us online to schedule an in-home consultation. We can discuss ideas for home and bathroom renovations for seniors that address your current and future requirements.
CALIFORNIA BATHROOM & KITCHEN REMODELERS
1261 Lincoln Avenue
Suite 112
San Jose, CA 95125