New Ideas for Bathroom Remodeling Updates
Thinking About Updating Your Bathroom? You Are Not Alone
Turn Your Bathroom Pet Peeves into a Remodeling Checklist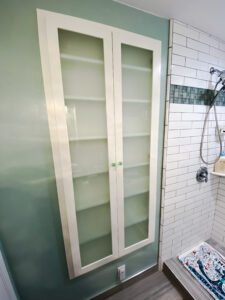 Is there something that constantly irks you about your current bathroom layout or décor? Thinking about updating your bathroom? You are not alone. From sprucing up with new shower curtains to gutting an outdated bathroom and starting from scratch, you might be surprised how many people share your bathroom cringe triggers. At California Bathroom and Kitchen Remodelers, we can help you turn your most embarrassing bathroom features into upgrades you can't wait to show off.
The 2021 U.S. Houzz Bathroom Trends Study revealed the top pet peeves or pain points for surveyed homeowners. Here's what they found:
Nearly 7 out of 10 homeowners surveyed thought their bathroom looked old and outdated.
About 33% felt they needed more storage while 32% complained about small showers.
Insufficient lighting (28%), poor ventilation (25%), and limited counter space (23%) round out the top six reasons these homeowners would like to renovate their bathrooms.
Dishonorable mentions go to glass shower doors that have seen better days (18%), noisy fans (15%), decrepit shower curtains (14%), bathrooms with just one sink (14%) and no natural light (11%).
A few respondents thought they should relocate their toilet (9%), add a bathtub (5%), change their toilet paper mount location (5%), or add more mirrors (4%).
Our bathroom design specialists would love to help you brainstorm ways to help you check a few of these (or all of them!) off your list of pet peeves.
5 Bathroom Renovation Ideas
Thinking about updating your bathroom? You are not alone when you team up with our remodeling experts. Here are a few ideas to get you started:
Increase your storage space: Custom designed cabinetry, shelving with baskets and bins, and built-in vanities will maximize your compact spaces.
Add a second sink: This can double your efficiency during the morning rush without requiring a huge renovation budget.
Relocate the bathtub and add a shower stall: Freestanding acrylic tubs are all the rage, but you can maximize space and have the best of both worlds with a shower-tub combo. An alcove tub against a wall might be a great idea for your updated bathroom.
Make it senior-friendly: Whether you have a senior living with you or you want to plan for your own ability to age in place, your bathroom remodeler can follow ADA guidelines to make your bathroom accessible and age-friendly. From a wide entrance to grab bars, shower/tub seating, lowered counters and vanities, walk-in or curb-less showers, and more, there are many ways to make your updated bathroom safe, convenient, and yet, stylish.    
Complete makeover: Through stunning designs and quality workmanship, our veteran remodeling team takes your bathroom from the 1980s (or earlier!) to a modern era home spa. Talk to us about your wish list for a luxurious, functional bathroom remodel.
Small changes make a big difference! Talk to us about your bathroom pet peeves so we can change them into cherished features.
Contact us today to make your bathroom more functional and beautiful. Our service areas include San Jose, Willow Glen, Almaden, Los Gatos, and Cambrian. Call 408-360-9700 to book a consultation.
CALIFORNIA BATHROOM & KITCHEN REMODELERS
1261 Lincoln Avenue
Suite 112
San Jose, CA 95125