Kitchen Remodeling and Design in San Jose
Successful Remodels with a Kitchen Designer in San Jose
Value of Hiring a Design and Construction Team in San Jose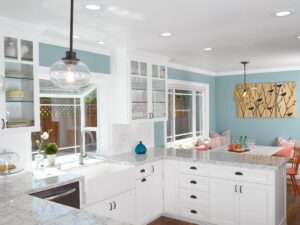 At California Bathroom and Kitchen Remodelers, we have talented designers and an experienced construction team that collaborate to give you the kitchen you always wanted. Our team focuses on adding contemporary colors, using innovative materials, and resolving your pain points. Here are a few things you can do to get ready for a kitchen remodel. Leave the rest to the expert kitchen designers in San Jose!
Fabulous Ideas for Your Kitchen Makeover in San Jose
What are the hottest colors that promise lasting appeal? What materials can you incorporate for a natural, modern look that will stand the test of time? Hiring a professional kitchen designer and construction team puts at your disposal the talent you need to achieve your kitchen makeover goals. Here are some ideas to get your creative juices flowing:
Consider adding stylish storage: Work with our design team to build the kitchen of your dreams. Redesigned kitchens may include additional windows, but that can cost you upper cabinet space. We can custom build cabinetry with additional storage, allowing you to keep the view without finding new places to put your cooking gear.
Think trendy hardware and countertops: Sophisticated black accents have replaced copper and brass as the hardware of choice on cabinets and drawers. You can also choose manufactured, granite, or other countertops in the same color to achieve the minimalist look popular in San Jose kitchens. Natural, warm colors will continue to trend throughout 2022 and beyond. Consider pairing basic black counters with natural wood cabinets in light stains or painted white, light gray, or another neutral color.
Check the hottest colors in 2022! According to a recent Sherwin-Williams study, emerald green is one of the hottest kitchen colors of the year. You can incorporate it on painted cabinets or choose rich emerald granite or other materials for an island or your countertops. Periwinkle, olive green and earthy shades are also in vogue for wall colors. What color palette appeals to you? Work with your kitchen designer to include it in your remodeling plans!
Expand work surfaces without cramping floor space: Combine an island with a breakfast nook. If you have a larger kitchen, consider an L shaped dining nook that attaches directly to your island with seating and storage. This allows you to easily expand your seating if guests come over, while providing convenient, intimate space to catch up with family members while you prepare lunch or dinner. We can also design an island for your small kitchen!
Browse through our kitchen designers' gallery for more ideas for your custom renovation.
Expert Kitchen Designers in San Jose at Your Service
It all starts with a consultation to find out what you would like to accomplish with a kitchen renovation. Our designers will brainstorm ideas with you and submit layouts for your approval. When you finally have a look that works for you and your family, our master craftsmen will come in and bring your vision to life.
Contact us to get in touch with our kitchen designers and construction crew. We serve clients in San Jose, Willow Glen, Almaden, Los Gatos, and Cambrian. Call 408-360-9700 to set up a complimentary consultation today.
Unique Homes in San Jose Showcase Exquisite Kitchen Designs
You can find almost every home style in San Jose, from mid-century Eichler inspired homes to modern estates in colonial, contemporary, or Mediterranean styles. San Jose has a variety of home styles within the same neighborhoods. Although eclectic, San Jose homes are well cared for and most often belong to upper and middle-class owners. Most of the city lies along bay flats or lower foothills, making construction here less difficult than in some California cities with more challenging geography. Whatever style home you have, we can incorporate a new kitchen design that matches the aesthetics of your home's interior and exterior.
If you are looking for a Kitchen designer in San Jose, call California Bathroom and Kitchen at 408-360-9700.
CALIFORNIA BATHROOM & KITCHEN REMODELERS
1261 Lincoln Avenue
Suite 112
San Jose, CA 95125