Kitchen Remodeling Contractors in Los Gatos, Monte Sereno
Stunning Makeovers by Kitchen Remodeling Contractors in Los Gatos & Monte Sereno
Transform the Heart of Your Home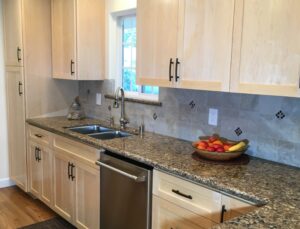 California Bathroom & Kitchen Remodelers, Inc. has a close-knit team of expert craftsmen and designers you can trust to update your kitchen, your way. Our talented kitchen remodeling contractors in Los Gatos and Monte Sereno take your whole home into account when designing a chef-friendly kitchen that blends seamlessly with your home's design and décor.
Whether you want classic finishes or ultra-modern flair, we'll find the right cabinetry, accessories, countertops, flooring, appliances, fixtures, and lighting to transform your kitchen. We offer recommendations based on years of experience to improve the workflow with a gorgeous, but functional, floor plan. From backsplashes and cabinets to islands and pantries, we'll bring a look you love to the heart of your home.
Kitchen Remodeling Contractors with Experience
If you're new to home remodeling, don't worry; we've been doing this successfully since 1994. Before we get to work on the new look you envision, our experienced kitchen designers meet with you to discuss your needs and understand your lifestyle. Then, we'll put it all together using state-of-the-art design software and make any final tweaks to your specifications. Whatever questions you have are welcomed as we move through the design phase and into the execution of your reimagined kitchen.
New Ideas, Novel Materials, and Old-Fashioned Know-How
Our goal is to create a kitchen where you can relax with the family or host a formal soiree with equal proficiency. As your kitchen remodeling contractors in Los Gatos and Monte Sereno, you can count on us to ensure consistently high quality with every project:
Timeless appeal, personalized details. Sleek or casual, traditional or futuristic, the style you choose is simply the template. With help from our designers, you can create a gourmet kitchen with cozy seating, plenty of storage, and hidden ports for appliances and electronics. Most importantly, you can be sure that everything will reflect your style and preferences!
Updated materials and products. From glass tiles to mosaic flooring, we can help you achieve an updated look that won't go out of style. Without breaking the bank, we'll help you source affordable appliances, handcrafted cabinets, and implement architectural details that give your remodeled kitchen unmatched appeal. Whether you prefer natural or engineered construction materials, we'll help you bring it all together with a cohesive design and careful project management.
Expert craftsmanship. We proudly employ designers and craftsmen committed to perfection. We don't believe craftsmanship should ever go out of style. Whether you prefer Shaker cabinets or hidden appliances, we cater to discerning homeowners who expect nothing but the best.
At California Bathroom & Kitchen Remodelers, we have recreated kitchens in Los Gatos, Monte Sereno, Cambrian, Almaden, and across the greater Santa Clara Valley area. We invite you to browse our gallery of successful kitchen remodels for inspiration.
Contact us to put experienced kitchen remodelers in Los Gatos and Monte Sereno to work in your home. Call 408-360-9700 to arrange a free consultation today.
Historical and Modern Home Styles in Los Gatos and Monte Sereno
Monte Sereno is committed to preserving the city's rural character. The interior and exterior designs of homes reflect the aesthetics of Monte Sereno's design guidelines. Many homeowners trust California Bathroom & Kitchen Remodelers, Inc. to honor the local regulations while incorporating innovative design elements in their home renovation projects.
In Los Gatos, homeowners form a rich tapestry that reflects the area's history. Some homes are mature ranch-style houses while others represent more decadent contemporary flair. For example, the Almond Grove District has lovely Victorian homes interspersed with Craftsman-style homes. Near the coastal foothills of Los Gatos, you can find Spanish haciendas. When you hire us for your remodel, our designers work hard to modernize your kitchen, bathrooms, and other living spaces, in harmony with your home's unique character.
CALIFORNIA BATHROOM & KITCHEN REMODELERS
1261 Lincoln Avenue
Suite 112
San Jose, CA 95125