Bathroom Remodeling Ideas in San Jose

Design a Smarter, More Convenient Bathroom for Long-Term Living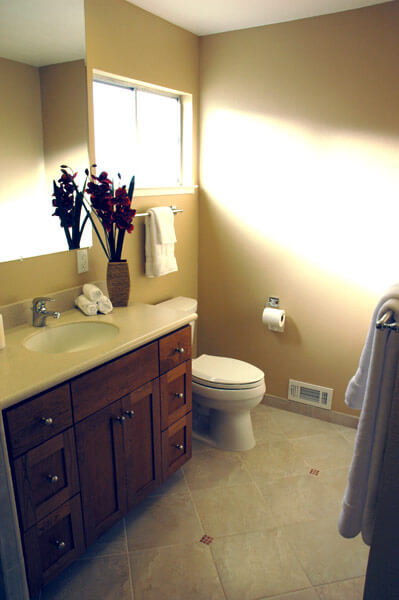 When you decide to upgrade your bathroom, the possibilities are endless. Keep in mind that your needs and tastes will change over the years. Try to focus on timeless appeal and functionality for your bathroom makeover. Choose easy-care materials that make cleaning the bathroom less onerous and time-consuming. Our skilled designers have put together these inspiring bathroom remodeling ideas for San Jose residents.
Brighten Up Your Bathroom and Make Life Easier
Maximize the use of space, make your bath and shower senior-friendly, and customize your bathroom with help from California Bathroom and Kitchen Remodelers.
To get you started, here are several bathroom remodeling ideas for San Jose homes.
Declutter, and Integrate Innovative Storage Solutions
Here are a few bathroom design ideas to create an uncluttered appearance with convenient, stylish storage:
Combine a compact sink with a sleek, narrow profile vanity for a neat look and adequate storage space
Go vertical with custom cabinetry over the toilet or above the sink in lieu of a medicine cabinet
Limit wall tiles to an accent wall and go with slightly larger tiles — fewer grout lines create an illusion of more space
Shower baths give you the option to take a relaxing bath or quick shower without using separate spaces for both in your bathroom
Short projection or low depth toilets take up less room and give your smaller bathroom a sleek appearance
Bring in Natural Light but Keep Your Privacy Intact
Consider frosted or glazed doors that let light into your bathroom. Keep in mind that frosted or glazed doors still allow some visibility. Therefore, they are best suited for ensuite bathrooms where privacy is less of an issue.
You can use frosted or glazed glass on your windows to let in natural light without giving up privacy. You can also consider a sunlight dome, which is a smaller version of a skylight that funnels in light from a small dome on your roof.
Install Period-Appropriate Bathroom Fixtures
If you love retro glamor or want ultra-modern design, consult with our bathroom designers. Count on our team to provide stunning designs and expert craftsmanship for your bathroom remodel. Whether you choose modern contemporary, Craftsman-style or mid-century décor, we'll deliver a complete look with period-appropriate fixtures, such as the following:
Woodwork and metalwork define a Craftsman-style bathroom
Clawfoot bathtubs set the tone for a vintage bathroom
Brass or brushed nickel exudes an industrial or minimalist vibe
Rain showerheads, faucets protruding directly from the wall, and sinks that stand alone in artsy basins above the counter all define trendy, modern bathrooms
Classy fixtures in gray or silver tones will reflect the sleek, minimalist lines of a mid-century style bathroom remodel
Easy Access Tubs and Showers for Aging in Place
When considering bathroom remodeling ideas, San Jose homeowners should also think about future needs. If you already have family members with mobility issues, the following changes can make life easier and safer for them.
Here are a few ways to keep older adults safe and secure in the bathroom:
Install sturdy grab bars in your shower. You'll also want to install grab bars in your separate tub or toilet area to prevent slips and falls.
Consider installing a walk-in tub or walk-in shower complete with a seat to make bathing easy and enjoyable for those with mobility issues.
Add a lower vanity or separate sink at a convenient height for wheelchair access.
See our blog on aging in place for additional ways to address changing needs as you grow older.
From modern, water-saving toilets, showers, and faucets to stylish storage, and easy-care, non-slip flooring, we can help make your dream bathroom an affordable reality. Our experienced team has plenty of useful tips for budget-friendly bathroom makeovers.
Contact us today to discuss more bathroom remodeling ideas for San Jose homes. We proudly serve residents in San Jose, Campbell, Cupertino, Almaden, and Willow Glen. Call 408-360-9700 to set up a consultation.