Top Considerations for a Quality Kitchen Remodel
Advice from Bay Area Renovation Experts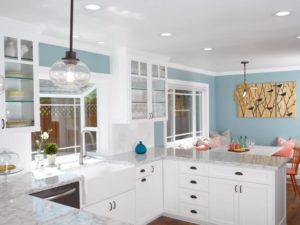 You've flipped through designer home reno magazines, browsed hundreds of Pinterest and Instagram photos, and you're all set to create your dream kitchen. But, are you aware of the top considerations for a quality kitchen remodel? From layout and design to material selection and finishing, every step will impact the success of your remodeling project. The experts at California Bathroom & Kitchen Remodelers explain the key aspects that you should consider when you renovate your kitchen.
Critical Factors for a Successful Kitchen Renovation
A quality kitchen remodel addresses functionality and aesthetics to strike a perfect balance. Here are the top considerations that will help you maximize your renovation budget and build the kitchen of your dreams.
Get your plan in order: Before you plunge into a kitchen renovation project, ask yourself some pertinent questions:

What do you dislike about your current kitchen?
How much are you willing to spend on fixing those issues?
Will you need major structural changes or addition of space, or will a few basic, budget-friendly kitchen remodeling features sufficiently address the problems?

Consult an experienced designer: Even if visualizing is your forte, or you have specific finishes in mind, you may want to rely on the services of a renovation expert. An experienced designer can make your kitchen look better and function more efficiently, without exceeding your budget.
Define the remodeling scope: Have you identified your problem areas, compared multiple quotes, and finalized your kitchen remodeling designer and contractor? Now take the time to scope out the project based on your list of must-haves and good-to-have, so that you don't end up spending more than planned. Don't forget to consider all aspects of the kitchen, such as the wall color, flooring, appliances, countertops, backsplash, light fixtures, sink and faucet, cabinets, and cabinet hardware.
Choose 'function' over 'form': Do not let design elements compromise the utility of the three most-used features in your kitchen; the sink, the fridge and the stove. Invest in a high quality stove, pick a sink with sufficient depth to accommodate your pots and pans, and select a fridge that meets the needs and lifestyle of your entire family.
Quality Kitchen Transformations by Santa Clara Valley's Remodeling Experts
At California Bathroom & Kitchen Remodelers, we specialize in luxurious custom kitchen makeovers, efficiently balancing your wish list and budget. Our skilled designers take time to understand your requirements and prioritize the project scope, while our master craftsmen deliver professional finishes along with unparalleled customer service. No matter how small or large your kitchen, we can create practical layouts and lifestyle-friendly solutions that deliver value for money.
Since 1994, we have passionately redesigned cook spaces across the Santa Clara Valley, including in San Jose, Santa Clara, Monte Sereno, Los Gatos, Los Altos Hills, Willow Glen, and Almaden, CA. Read these testimonials from our delighted customers.
Call CBKR, your trusted kitchen remodeling contractors at 408-360-9700 or contact us online to schedule an in-home consultation. We can discuss a number of creative solutions for a quality kitchen makeover.