Maximize your Budget with Attractive, Durable Surfaces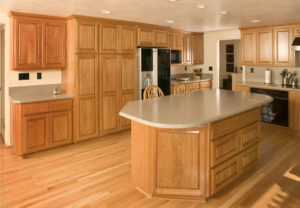 Knowing the top 5 materials for new kitchen countertops is a starting point for choosing the surfaces where you will prep, cook, work, and enjoy your meals. With an overwhelming range of options on the market, selecting the right materials is key to achieving an attractive, functional kitchen, with durable, easy to maintain surfaces. The experts at California Bathroom and Kitchen Remodelers help you make suitable choices by listing the pros and cons of the top 5 materials for new kitchen countertops.
Spruce up Your Kitchen with Trendy Countertops 
Completely overhauling your kitchen, or going for a minor refresh? No matter what the scope of your renovation project, new countertops can hugely improve the appeal and functionality of your kitchen and enhance the value of your home. Explore these top 5 materials for new kitchen countertops and decide what works best for your needs and budget: 
Granite: A definition of beauty and elegance, granite makes even the most modest kitchen look chic and luxurious. As a natural stone that is strong, durable, and almost impervious to heat, granite comes in thousands of colors and patterns. However, it is an expensive material that can potentially crack upon stress or due to improper installation. Since it is porous, it also requires regular professional resealing to prevent stains.
Marble: There is nothing quite as magnificent as a marble countertop. Because of its high price tag, marble may not fit within an economical kitchen renovation project. However, this material is heatproof, waterproof, and exceptionally beautiful due to the unique veining in every slab. Besides being expensive, marble is a porous stone that can stain easily unless regularly resealed. Although rare, marble can also scratch or crack, and repairing a natural stone can be quite difficult. 
Quartz: One of the most up-and-coming materials in recent years, quartz is an engineered stone that has given new meaning to durability and convenience. Homes with young kids and busy parents find this heat-resistant, water-resistant, stain-proof material to be an extremely good fit for their kitchens. Quartz offers hardiness, ease of maintenance, and perfection (since every slab is uniform), which means you do not need to spend on regular resealing or professional upkeep. However, this material continues to be more expensive than other options, such as laminate or solid surface materials.
Wood/ Butcher Block: Wood countertops can help create a warm, country kitchen-like vibe or an industrial-chic look. Usually, kitchen countertop slabs are made from hardwoods, such as maple or oak, in a wide range of colors and finishes. With frequent cleaning, sanding, oiling, and resealing, your wooden countertop can last for several decades. However, it is a fairly expensive material, and without proper care, your butcher block can eventually face water damage, stains, bacteria growth, or cracks.
Soapstone: A natural stone that usually comes in darker shades of black or grey, this smooth, silky surface may be an interesting alternative to granite. The stone is hard, and quite resistant to stains and heat. Although soapstone could scratch or dent, you can easily sand out any damage, or leave them as-is to create a unique patina that gives your kitchen an attractive look.
There are several other options, such as concrete, stainless steel, solid surface (Corian), laminates, and custom ceramic tiles that also make for interesting kitchen surfaces. However, before you finalize the material for your new kitchen countertops, study the pros and cons of each, and learn whether they meet your family's lifestyle, preferences, and budget. 
Fantastic Makeovers by Santa Clara Valley's Trusted Kitchen Specialists 
At California Bathroom & Kitchen Remodelers Inc. we are passionate about redesigning kitchens to enhance your lifestyle and increase the value of your home. Invest in our innovative ideas, impeccable craftsmanship, and efficient project management skills to give shape to the kitchen of your dreams.
Since 1994, we have served happy homeowners across the Santa Clara Valley, including Almaden, Willow Glen, Los Gatos, San Jose, Monte Sereno, and Los Altos Hills, CA.
Call CBKR, your trusted kitchen remodeling specialists at 408-360-9700 to schedule an in-home consultation or contact us online. We can discuss the latest trends in kitchen designs and materials and help you make informed choices.