Use the Latest Trends from Houzz for Your Kitchen Renovation
Great Ideas for Countertops, Flooring, and Cabinetry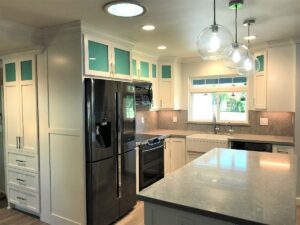 When setting your remodeling goals, it's useful to know what's trending and then you may choose what works for your lifestyle, budget, and aesthetic preferences. Use the latest trends from Houzz for your kitchen renovation ideas and planning. Then partner with California Bathroom and Kitchen Remodelers to make it happen!
Are you ready to get started? Find out five top trends to consider for your kitchen countertops, flooring, cabinetry, and more!
You Want ROI, Style, and Utility — So, Where Should You Splurge?
According to Houzz, these are the top renovation trends worth spending money on. And if you plan to sell your home and want to give the competition a run for their money, you may have to!
New counters can rock your kitchen. About 91% of homeowners take out their old counters and invest in new ones during a kitchen remodel. More than a third of them spend more than originally planned. What are the hottest materials for stunning countertops?

Engineered quartz will enhance the countertops of 42% of survey participants, significantly less than the prior year.
Granite comes in as a close second, with 24% choosing this timeless material.
Quartzite, laminate, and concrete rounded out this year's top countertop materials for kitchen remodels.
What's the most popular color choice? Believe it or not, 39% of renovators chose white countertops!
Check out our kitchen gallery for additional inspiration.
Marble backsplashes are making a splash. The vast majority of participants (86%) included a new backsplash in their remodeling projects.

More than half of them plan to splurge on upgraded materials like marble.
Others will stick to conventional porcelain and ceramic tiles.
Approximately 66% will cover the area from the countertop to the cabinets, while 19% will cover a smaller portion of the wall.

Vinyl flooring is a top choice among Houzz survey participants. The favorite flooring materials include the following:

Hardwood (25%)
Vinyl or resilient flooring (23%)
Ceramic or porcelain tile (19%)

Gray and white are the new favorite kitchen colors. Although fewer people like gray counters for their remodeling projects, gray and white dominate in these other areas:

Cabinets
Backsplashes
Walls

Cabinets are the main event. Up to 65% of homeowners say that they'll replace all the kitchen cabinets, and 29% more will replace some of the cabinets. More than 3/4 of homeowners will go with solid wood, mainly in the Shaker or flat panel styles. Additionally, 43% of remodelers have prioritized cabinetry and plan to invest in customized cabinets. White and gray are the most popular cabinet colors.
Whether you go with the latest trends or march to your own beat, we'll help you create a gorgeous new kitchen.
Contact us today for assistance with your kitchen remodel project. We'll help you use the latest trends from Houzz for your kitchen renovation in San Jose, Willow Glen, Almaden, Los Gatos, and Cambrian. Call 408-360-9700 for a free quote.
CALIFORNIA BATHROOM & KITCHEN REMODELERS
1261 Lincoln Avenue
Suite 112
San Jose, CA 95125