Including an Island in Your Kitchen Update
Planning Your Kitchen Update? Include an Island!
Consider these Top Reasons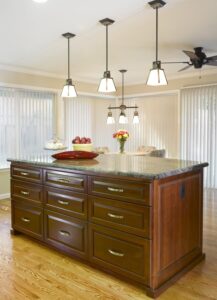 Kitchen islands offer a cozy place for your family to gather for meals, entertainment, and even school assignments or homework. Most islands have seating on one side, with space dedicated to food preparation and amenities taking up the rest of the area. If you decide to include an island in your kitchen update, you can include seating on two or more sides without sacrificing storage space and surface area, with the right design. 
California Bathroom and Kitchen Remodelers has experienced kitchen designers and installers ready to help you update your kitchen with a family-friendly island at its heart. Here are a few ideas for expanded island seating that fits your lifestyle:
Does your island seating face views of your backyard? Think about expanding the window and ask your designer to add seating on the short sides and one long side. You can either extend the island you already have or customize a new one with the correct dimensions. Don't forget to factor in adequate legroom for everyone!
Would you rather face views of your backyard or your kitchen appliances? It's important to orient your seating to take advantage of the best view. If your kitchen has a window opening onto outdoor views, our designers can create an island with seating facing the window rather than your appliances. However, if your kitchen doesn't have access to outdoor views, you can design wraparound seating to face the living area. As a bonus, this facilitates entertainment and enhances an open floor plan.
If you have a smaller kitchen, check out our blog on "Ideas for Designing an Island in a Small Kitchen" for your home in San Jose, Willow Glen, Almaden, Los Gatos, and Cambrian.
Don't Have a Kitchen Island Yet? Here's Why You Need One
Kitchen islands evolved from large farm tables that served a dual purpose as food prep areas and family dining space. Modern kitchens use the space in much the same way, but you require aesthetic appeal just as much as functionality. Here are the top reasons you should incorporate an island into your kitchen renovation with your next update:
A kitchen island provides access on every side, allowing you to maximize your space for storage and seating. Compare that to countertops against walls with access on just one side. In contrast, when executed properly, kitchen islands become a focal point with additional seating for guests and family members.
Many kitchen islands also serve as a home office or study space during the day. If you work from home and don't want to clutter your kitchen table or build a dedicated office, an island with comfortable seating will serve you well. Your kitchen remodeler can also ensure you have electrical outlets to plug in and charge your devices conveniently.
Create a more spacious work area. The applications for kitchen islands are endless. Create an island with a range and cook top to build your gourmet kitchen. Alternatively, you can also add freezer or refrigerator drawers if you need more food storage space.
Tell us your pain points and what you would like to get out of your kitchen remodeling project. We can help you plan how to include an island into your other wish list items for a more functional kitchen.
Not sure why to include an island in your kitchen update? Contact us today for ideas on how to maximize your kitchen space with a gorgeous modern island. We proudly serve homeowners in San Jose, Willow Glen, Almaden, Los Gatos, and Cambrian. Call 408-360-9700 to get an accurate quote.
CALIFORNIA BATHROOM & KITCHEN REMODELERS
1261 Lincoln Avenue
Suite 112
San Jose, CA 95125