Kitchen Remodeling Contractors in Los Altos & Los Altos Hills
We Give Your Kitchen New Life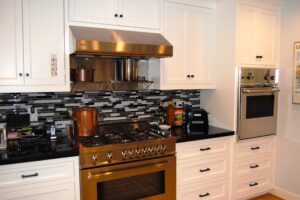 California Bathroom & Kitchen Remodelers, Inc. delivers kitchen makeovers that leave you pinching yourself. It might seem like a dream, but it's what you get when you hire the top kitchen remodeling contractors in Los Altos and Los Altos Hills.
Do you crave a modern, classy kitchen? Think smart, stainless-steel appliances, gorgeous natural stone countertops, classy backsplashes, streamlined cabinets, and plenty of natural light. From recessed lighting fixtures to easy-to-maintain tile floors, we design and install your kitchen to be more beautiful and functional. We can even add an island for extra seating, food preparation, and storage space. With years of experience as kitchen remodelers, we have worked with all shapes and sizes of kitchens. Design concepts, layouts, and every last detail, is planned and implemented to your tastes, lifestyle needs and budget.  
Innovative Designers and Contractors Make a Difference
If this is your first remodeling project, the kitchen is a great place to start. You can rely on our experienced designers to provide a unique perspective while ensuring that basic kitchen remodeling necessities are all in place.
Do you cook every day, or do you mainly use your kitchen for entertainment purposes? Whether you are a gourmet chef or prepare quick meals as part of your daily routine, you need a convenient, functional kitchen. You also want the heart of your home to check all the right boxes for style, trend, and aesthetics. Increase the value of your Los Altos home and your family's quality of life with quality kitchen makeovers delivered by experienced remodeling professionals.
A Fresh Approach to the Busiest Room in the House
Our kitchen remodeling contractors in Los Altos and Los Altos Hills deliver on time and on budget while striving to integrate the renovation with the rest of your home.
We keep the following touchstones in mind when creating the look you want for your kitchen:
Updated look, improved functionality: Do you have an outdated kitchen that desperately needs some attention? We can help you take your kitchen from drab to fab, reflecting the style and layout that works best for your family. Add cozy seating, counters made of durable materials, and personalized touches in everything from your cabinetry to your flooring. Install essential technology such as hidden electric ports for your electronics and appliances — no more unsightly wires hanging from wall sockets.
High-quality materials: Select from wood, tile, and a wide range of other materials that will update your kitchen and last for many years. Affordable, handcrafted cabinetry brings beauty and functionality to your kitchen upgrade. From metal to glass to subway tiles, we'll create a gorgeous backsplash to tie together the other elements in your kitchen or add a standout design element.
Kitchen remodeling expertise: As our name suggests, we are the area experts when it comes to kitchen remodeling. There are many styles to choose from:

Bright and airy farmhouse chic
Craftsman style features such as wood counters and warm tones
Industrial vibe with stainless-steel, simple cabinetry, or built-in appliances
Traditional, earthy, and chic French country themes
Feel free to browse our kitchen remodel gallery for examples of completed projects.
Contact California Bathroom & Kitchen Remodelers, Inc. to hire the best kitchen remodelers in Los Altos and Los Altos Hills. You can also reach us by phone at 408-360-9700 to schedule a consultation.
Charming Estates and Modern Homes in Los Altos and Los Altos Hills
The once quiet valley of farms and orchards has become part of the Bay Area's urban sprawl. Now a technology powerhouse, the region, including Los Altos and Los Altos Hills, serves as a crossroads between American and Asian culture. Los Altos incorporated in 1952 and consisted mainly of plum and apricot orchards and ranch land. Today, Los Altos covers seven square miles and stretches from Sunnyvale and Cupertino to Mountain View. Highway 85 and Interstate 280 link Los Altos to nearby cities. More than 85% of residents in Los Altos Hills have a college degree and many have lucrative jobs in tech and other high-paying industries. Well-maintained estate-style homes and master-planned communities lend to the area's charm and appeal.
CALIFORNIA BATHROOM & KITCHEN REMODELERS
1261 Lincoln Avenue
Suite 112
San Jose, CA 95125