Kitchen Renovations on a Budget at California Bathroom & Kitchen Remodelers Inc.
Stylish Kitchen Renovations on a Budget
Expert Tips for Cost-Efficient Upgrades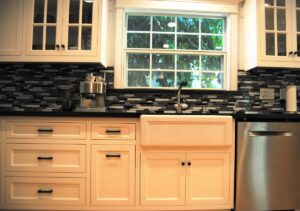 Is it possible to create a dream kitchen if you must do your kitchen renovations on a budget? Absolutely! There are plenty of ways to make smart, cost-effective upgrades that elevate the look and function of your cook space. The home remodeling specialists at California Bathroom and Kitchen Remodelers offer useful tips and suggestions to complete your kitchen renovations, even with a smaller budget.
Top Ideas for a Budget-Friendly Kitchen Makeover 
Prioritize function over form: Whether it is a compact kitchen or a sprawling one, the most important element of any kitchen makeover is to ensure a suitable layout that mirrors your lifestyle and cooking habits. Do you need an island for more prep space or overseeing the kids' homework? Do you like to cook and entertain at the same time? Do you need better access and movement between the refrigerator, stove, and sink? Think function first and invest in features that make for an efficient kitchen. A beautiful kitchen with an impractical layout is a waste of your renovation budget.
Upgrade the hardware, fixtures, and appliances: A simple and inexpensive way of refreshing a cook space is to swap out old pulls and knobs for more trendy options. Similarly, upgrading to smart, energy-saving appliances or changing out the light fixtures or faucets can give your tired kitchen an immediate facelift. 
Hack the big box store cabinetry: Nobody will fault you for using IKEA cabinets as a base for your cabinetry. You can enhance them with chic door fronts and hardware, a cost-saving trick that many top designers use for kitchen renovations on a budget. Add a touch of luxury by replacing some cabinet doors with glass doors or creating open shelving to display your best china and glassware pieces.
Create sufficient storage: A clean and uncluttered space can make all the difference during a kitchen makeover. Plan for sufficient cabinetry to keep your small appliances and other pantry items hidden from plain sight. Keep only the stylish stuff out on the counters and shelves.
Choose your work surface and flooring smartly: If a countertop or flooring replacement is part of your renovation goals, choose your materials wisely. The inexpensive laminate or the durable quartz offer plenty of options to replicate the look of real marble or natural stone, which usually feature in high-end kitchens. For flooring materials, engineered wood or vinyl offers an assortment of affordable designs and patterns to recreate the expensive look of original hardwood planks or natural stone tiles. 
Have fun with paint: Whether you opt for major changes, such as a new layout, or minor upgrades related to cabinetry and appliances, one aspect that will further enhance any kitchen remodeling plans is a change of paint. Do your research and select colors that reflect your personality and preferences.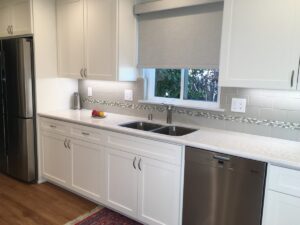 Remember that while these cost-efficient tips and tricks are ideal for a budget-friendly kitchen remodeling project, inexpensive materials may not always be durable. They may or may not contribute to the value of your home. If you are looking to get top dollar on a future home sale or have a growing family with a high-traffic kitchen area, think about the wear and tear that may happen within the next few years. Instead of taking on a low-cost, D-I-Y kitchen renovation project, consider hiring a professional kitchen remodeling expert who can help you maximize your renovation budget.
Affordable Kitchen Renovations by Experienced Santa Clara Valley Home Remodeling Contractors
At California Bathroom & Kitchen Remodelers Inc., we are passionate about delivering functional and stylish kitchen makeovers that increase the value and appeal of your home. Our talented designers work with you closely to create your dream kitchen. Our skilled and experienced crew executes all plans to your exact specifications, on time and on budget.
Since 1994, we have served homeowners across the Santa Clara Valley, including San Jose, Los Gatos, Almaden, Willow Glen, Los Altos Hills, Monte Sereno, and Santa Clara, CA. Past clients vouch for our innovative designs, quality workmanship, and unparalleled customer service.
Looking for ideas and inspiration for kitchen renovations on a budget? To speak to the kitchen remodeling specialists at CBKR, call 408-360-9700. You can also write to us online to book an in-home consultation.
CALIFORNIA BATHROOM & KITCHEN REMODELERS
1261 Lincoln Avenue
Suite 112
San Jose, CA 95125