Increase the Value of Your Home with These Bathroom Design Tips
Bathroom Design Tips to Increase the Value of Your Home
Extra Storage, Stylish Décor, Enhanced Features, New Fittings & Floors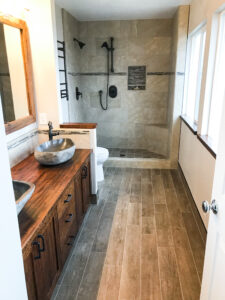 Are you tired of your drab bathroom but worried that renovations could drain your bank account? The truth is that you don't have to start from scratch to achieve a fresh, modern look. According to the National Association of Realtors, you can recoup up to 70% of the cost of redesigning your bathroom. So, what do you have to lose besides outdated fittings and dull walls or floors? Get inspired to plan your remodel and increase the value of your home with these bathroom design tips.
We asked our bathroom design specialists how to plan a remodel if you want to start small. So, follow the advice of California Bathroom and Kitchen Remodelers to increase the value of your home with these bathroom design tips.
How to Update Your Bathroom for Form, Function and Style
When you look around your bathroom, what do you see that needs to change immediately? Here are our top picks for affordable bathroom remodeling tips, plus a few changes that need more upfront investment but can give you the most bang for your buck:
Increase your storage space. Our skilled team can design custom cabinetry that enhances the aesthetic of your bathroom design. You can also consider using baskets, bins, and shelves to maximize vertical and horizontal space.
Update the paint. If it's been a while since you last put a coat of fresh paint on the bathroom walls, choose a modern color that reflects current styles. From bright and sunny yellows, whites, and beige tones to deeper hues such as sunset reds, ochre, olive green, and other great accent colors, you have plenty of choice.
Replace broken, worn, outdated tiles. At the very least, it's important to replace your broken and damaged tiles with new ones. However, there's no guarantee that the manufacturer will still have extra tiles that you can order. Subway tiles and large bathroom tiles present flexible options that can quickly update your bathroom. They can also help make a small space appear larger.
Add a second sink. Are weekday mornings a bit manic in your family? Do you share a bathroom with a spouse who has more hair and skin care products than your counter can hold? Add a second sink with additional counter space.
Consider bigger changes when you have the budget. Do you have oddly placed toilets and tubs to be changed or moved? Need some heavy muscle to revamp a bathroom after severe water damage? Want to add a shower for greater convenience in your busy household? Looking for a touch of luxury with a big, free-standing bathtub? Our bathroom design team offers comprehensive planning, design, and installation services.
If you want to make more extensive changes, our bathroom remodeling team can help you create a plan, stick to your budget, and get the biggest impact. That's good news for everyone in your household, and the increased value will pay off when you decide to sell your home.
Contact us today to increase the value of your home with these bathroom design tips and start planning your remodeling project. Our service area includes San Jose, Willow Glen, Almaden, Los Gatos, and Cambrian. Call 408-360-9700 to schedule a consultation!