Bathroom Refinishing VS Bathroom Remodeling
What's the difference?
Make the Right Choice and Enjoy Stunning Bathroom Makeovers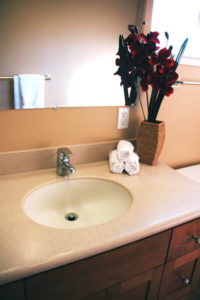 Choosing between bathroom refinishing vs. bathroom remodeling is never an easy decision. Both options have their pros and cons and serve a number of different purposes. The experts at California Bathroom and Kitchen Remodelers discuss the factors that can help you make an efficient and cost-effective decision.
Differences between Bathroom Refinishing and Bathroom Remodeling 
Repairing and refreshing a tired, old, or leaky bathroom is a great way to improve the value and functionality of your home. Sometimes, a few cosmetic changes may suffice, while at other times, you may have to go for a complete demolition and redesign. Before you decide, here is what you should know:
Bathroom refinishing: If you are happy with the existing layout, refinishing can breathe new life into your bathroom. You can potentially save thousands of dollars that go into tearing down and rebuilding a bathroom. However, refinishing does not address issues such as, old or damaged pipes and drains, dry rot, mold, or mildew in the walls or floors. Essentially, bathroom refinishing is a quick, hassle-free option for a rejuvenated look. It may include re-glazing or refinishing the tub and shower stall, re-staining the bathroom vanities and cabinets, replacing the hardware and light fixtures, repainting the walls, and other such minor upgrades.
Bathroom remodeling: A complete bathroom remodeling and redesign is ideal when:
The existing layout does not serve your needs or suit your lifestyle
The fixtures are not to your taste and preferences
The plumbing is outdated and not to code, or too old for repairs
Leaks and other moisture issues have caused structural damage
Bathroom remodeling is an excellent opportunity to build custom spaces that cater to your unique needs and budget. For example:
Solve space issues: Expand or enlarge your bathroom, add a shower stall or second sink, or reposition the tub or toilet.
Repair the faults: Upgrade your plumbing or electrical, fix any venting issues.
Modernize your bath space: Add hi-tech, water-saving features, such as a smart toilet, sensor-based faucets, or LED mood lighting
Factors that Influence Bathroom Refinishing Vs. Bathroom Remodeling
Consider these aspects while initiating a bathroom makeover project.
Planning to stay in this home for only a few more years? Spruce it up and save money with bathroom refinishing.
Think this may be your forever home? Address all underlying issues and use the opportunity to customize this space to suit your family's lifestyle and preferences.
Thinking of selling or renting out the property soon? Go for a full bathroom renovation to enhance the value and appeal of your home. It'll help you attract potential buyers and renters.
The cost of bathroom makeovers depends on several factors, including the size of your bathroom, scale of work, age of the property and fixtures, and the complexity of plumbing and wiring. In addition to the above three aspects, the choice between bathroom refinishing vs. bathroom remodeling also depends on your budget. Decide how much you are willing to spend.
A well-designed and executed bathroom remodeling project can truly add value to your home and lifestyle. Remember to partner with a competent contractor who:
Minimizes disruption to your routine: Practices good hygiene, keeps your living areas clean and offers a thorough post-job cleanup.
Provides value-enhancing upgrades: Carries out comprehensive, high-quality, sustainable upgrades to the plumbing, framing, waterproofing, and the rest of your bathroom's infrastructure.
Focuses on project efficiency: Allocates sufficient resources to your project, provides regular progress updates, and ensures timely and efficient completion.
Santa Clara Valley's Leading Bathroom Renovation Specialists
As a full-service bathroom remodeling design and construction contractor, we can take on projects of any scale and complexity. Whether it is a simple refresh or a complete overhaul, we offer attractive and functional bathroom transformations. We start with a thorough evaluation of your existing bath space and speak with you to understand your renovation goals and budget. Next, our team will give you an honest opinion on bathroom remodeling vs. bathroom refinishing. When you hire us for the job, expect nothing less than the best designs, quality craftsmanship, and smooth finishes. You'll have your new bathroom on time and within your budget, as promised!
Since 1994, delighted customers across the Santa Clara Valley count on our licensed, experienced and qualified professionals for stress-free and cost-effective bathroom makeovers. Our clients include homeowners in Willow Glen, Almaden, San Jose, Los Gatos, Los Altos Hills, Monte Sereno, and Santa Clara, CA.
For creative ideas, affordable solutions and efficient services, hire the experts at California Bathroom & Kitchen Remodelers Inc. Call 408-360-9700 or contact us online to schedule an in-home consultation. We can help you decide what's best for your home—bathroom refinishing or bathroom remodeling.