Best Paint Colors for Small Rooms
Tips on Color Choices for a Small Kitchen, Study, or Bathroom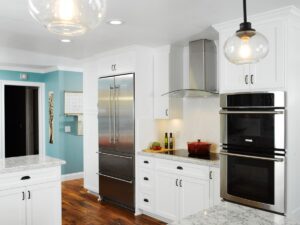 Color is among the most subjective choices you can make in home design and décor. It's all about creating a room that speaks to your personal taste, and when in doubt, asking the experts. Here, we have provided just a few ideas of how paint color (light and dark) can make a small room look bigger, cozy and inviting, or just fabulous at any size.
California Bathroom & Kitchen Remodelers can help you choose the best paint color for small rooms. Our pros can also suggest other changes to transform any space into your new favorite place in the house!
Keep Your Small Kitchen Vibrant with the Right Color Palette
Remodeling your small kitchen can make it more functional and choosing the right paint color can tie the room's overall design and the look together. Remember, you can make almost any color work with the right kitchen remodeling plan for your home in San Jose, Willow Glen, Almaden, Los Gatos, or Cambrian, CA. Need inspiration for your remodel? Check our online bathroom and kitchen showroom.
Learn about the relationship between the color on your walls and the impact on your kitchen by reviewing our tips:
Pastel yellow. Soft pale yellow paired with cream or similar tones lends warmth without overpowering the room as sunnier shades may. If you have wood counters or tile floors, this could be the right color for your small kitchen. It can also make your small nursery relaxing and vibrant to charm your little one.
Mint green. Minty greens complement so many themes. If you want a country chic, modern or eclectic vibe, this chameleon color delivers on all counts. Use neutral décor to offset the soft but pervasive minty hue. It's also the perfect counterpoint to crisp white or black counters and cabinets.
Crisp white. White makes rooms look larger, and that's important if your kitchen is small. Before you yawn, keep reading! The love it or hate it camps might just meet in the middle when they stop to think about the benefits of crisp white kitchen walls. Without a doubt, this is one of the best paint colors for small rooms that you want to give a larger, more spacious look. If stark white seems too clinical, add a touch of pink, blue, gray, or green for an updated spin on a classic color choice.
Pearl gray. For elegance and warmth, luminous pearl gray is the obvious choice for your kitchen walls. The color subtly transforms as the light changes. You can have soft shades during the day and more sophisticated hues after dark. This color can also transform your small living room into a pretty, warm retreat.
Light beige. This neutral tone lends an earthy vibe that warms up your kitchen without making it feel cramped. The light tone, mixed with a hint of your favorite color, reflects light, visually enlarging the room.
Colors You Think Won't Work in a Small Bathroom, Sometimes Do!
Are you having trouble deciding on a color palette for your bathroom renovation? Try these knock-out color applications that you may assume will shrink your space. They don't, when done correctly!
Glossy black. High gloss paint reflects light, especially when paired with large mirrors. Add glamor and mystery to the smallest bathroom with this unexpected paint choice.
Navy blue. Navy blue gives your bathroom an instant nautical vibe, but you can use it as a backdrop to your theme of choice. Painting the top section, a lighter color, can open up the space without losing the personality of the bold navy blue.
Blush pink. A hint of pink softens your small bathroom, adding warmth without the frenetic energy of pure pinks or reds. Pair it with light blue tones to balance out a kids' bathroom.
Contact us today for assistance in choosing the best paint colors for small rooms. We are happy to design a new kitchen or bathroom that incorporates your personality, starting with the color palette. Call 408-360-9700 for a free quote in San Jose, Willow Glen, Almaden, Los Gatos, or Cambrian, CA.